CLOSE
BKLYN Commons
495 Flatbush Ave,




Brooklyn

,

New York

11225

United States
BK Urban Hackathon
Join us for
Brooklyn Tech Week's
BK Urban Hackathon
November 9th – 10th
VENUE: BKLYN Commons
495 Flatbush Ave. Brooklyn, NY 11225
TIME: 11: AM – 9 PM
In the spirit of a decentralized Brooklyn–creating the foundation for social mobility and equity for all–we will kick off the 2ND annual BK Urban Hackathon. Let's come together to see how we can use these mechanisms to start improving the way we live, work and play.
Arrive on Saturday, November 9th at 1:00 pm for a panel on the state of coding, followed by tutorials and workshops. Get a good night's rest and get ready to hack towards an awesome future at BK Urban Hackathon
OFFICIAL HACK prizes include ETH giveaways and free swag.
Hack lead – Arnell Milhouse, CareerDevs
BK URBAN HACKATHON
By 2022, at least one innovative business built on Blockchain technology will be worth $10
billion.
■ By 2030, 30% of the global customer base will be made up of things, and those things will use
Blockchain as a foundational technology with which to conduct commercial activity.
■ By 2025, the business value added by Blockchain will grow to slightly over $176 billion, then
surge to exceed $3.1 trillion by 2030 (source Gartner).
---
BK URBAN HACKATHON/Goals and Outcomes
To secure Brooklyn as one of the preeminent places in the universe for innovative blockchain and cryptocurrency startups, research, and development.
Introduce 100+ developers to the solidity programming language
Teach 100+ developers how to mint their own Blockchain token/crypto
Announce the launch of the Brooklyn Tech Lab Incubator in early 2020
Announce our plans to begin educating 1000 blockchain developers in Brooklyn over the next 12 months, ushering in an unprecedented uptick in development and innovation
Announce our goal to ensure that Brooklyn is home to some of the highest valued blockchain startups
Identify the top blockchain projects currently in development
Invite guest speakers from five of the top blockchain projects currently in development
Identify the top Open Source Blockchain projects currently in development. Demonstrate how developers can get involved
Form partnerships with science departments within local universities to create peer-reviewed academic research papers co-authored in BK.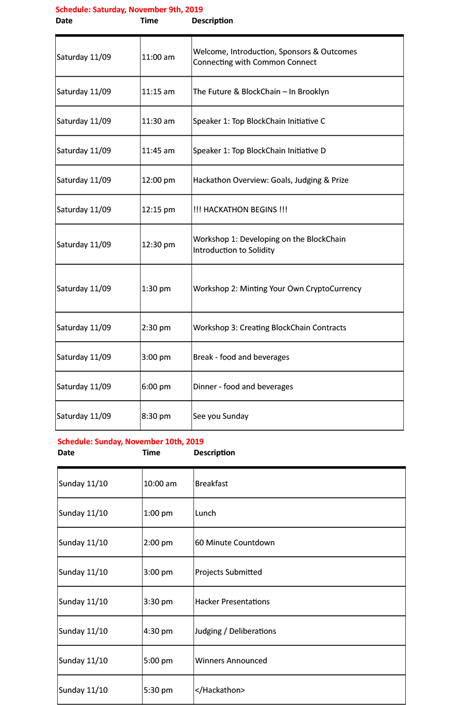 https://www.BrooklynTechWeek.org
#Hackathon #BkUrbanHackathon #Coding #Programming #UX #Frontend #Backend #BrooklynTech